When visiting County Wicklow, a good place to visit is Glendalough (Gleann dá Loch, 'Valley of the Two Lakes') 

It is renowned for its Early Medieval monastic settlement founded in the 6th century.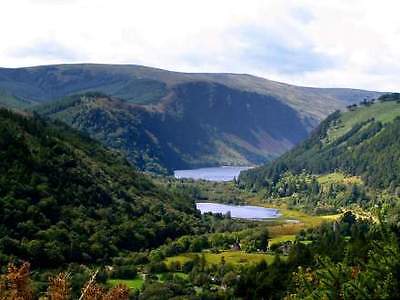 I recently visited Glendalough and could resist to photography one of my popular
claddagh ring
designs here.
Glendalough is a glacial valley praised for its rugged natural beauty. The Poulanass river, which plunges into the valley from the south, created a delta, which eventually divided the original lake in two.
Glendalough is surrounded by thick oak woodland. Glendalough is a good place to spot some of Ireland wildlife such as the Goosander and Great Spotted Woodpecker, and some of the rarest, such as the Redstart and Wood Warbler; Peregrine, Dipper, Cuckoo, Jay and Buzzard can also be seen.
There are many walking trails of varying difficulty around Glendalough. Within the valley itself there are nine colour-coded walking trails. There are also a number of guided walk options.

There are many important Irish historical buildings to visit in the valley including, 
the Gateway, the Round Tower  and the Cathedral dating back to the 6th century.